Applying for a Firearms License
County probate courts issue firearms licenses to state residents 21 and older.
What You Should Know:
When you arrive at probate court, you'll need an official form of identification, your payment and a self-addressed, stamped envelope (if you would like them to mail your license to you). Submit your application at the court along with your fingerprints. Within 5 days, a county probate judge will request a criminal history records check and a background check on you. About 30 days later, law enforcement will finish its background check and determine whether you can receive a license.
County probate judges may restrict state residents with criminal records from getting licenses. Read more about these restrictions.
If you've been in a mental hospital or drug treatment center within the last 5 years, you must ask that your county probate court judge approve your license application. The judge will seek a recommendation from the superintendent of your hospital or treatment center, and then determine whether it's safe for you to carry a gun.
FAQs:
How much does a license cost?
While $75 is an average fee for licensing and fingerprinting, costs vary by county. Contact your local probate court for details.
How long is my license valid, and when should I submit my license renewal?
Licenses are valid for 5 years. At least 2 months before your license expires, you should go to court to apply for renewal.
What states does Georgia share firearms license reciprocity with?
Alabama, Alaska, Arizona, Arkansas, Colorado, Florida, Idaho, Indiana, Iowa, Kansas, Kentucky, Louisiana, Maine, Michigan, Mississippi, Missouri, Montana, New Hampshire, North Carolina, North Dakota, Ohio, Oklahoma, Pennsylvania, South Carolina, South Dakota, Tennessee, Texas, Utah, West Virginia, Wisconsin and Wyoming all recognize Georgia-issued firearms licenses. You should acquaint yourself with firearms restrictions in those states when possible.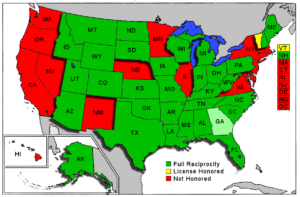 This information was prepared as a public service of the State of Georgia to provide general information, not to advise on any specific legal problem. It is not, and cannot be construed to be, legal advice.